Alas Kedaton is located in Kukuh countryside, Marga Sub district, Tabanan Regency . The journey go to this place can be done easily by using motor vehicle follow the major roadway from Denpasar to Tabanan. On the way go to this tourist place, we will see the beautiful nature view where in front of us will meet the carpet of rice field and irrigation voice at the side of road to bear the impression/peaceful atmosphere. Alas Kedaton Temple have three yard that are external yard, middle and center yard. In the center and middle yard are encircled by wall and the outside yard is representing a open yard. The interesting point of this temple is the inside yard representing holy yard, its situation lower than the middle yard. This thing is different compare with the general temples in Bali that are more goes to inside the temple, the more higher the place will be. Beside of that another interesting point of this temple owns four entrances.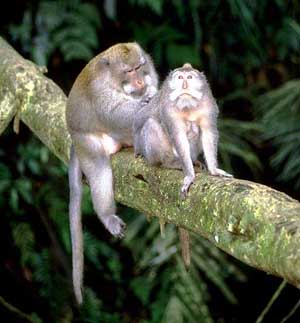 Alas Kedaton or "Holy Forest: is a small forrest measuring 12,00ha where you can see hundreds of monkeys in their natural habitat. It's one of the place in Bali where monkeys exist, free and peaceful. There are hundred of monkeys in this forest and high up on the big trees many bats area hanging and singing with their loud voices.


Located in Sangeh Village, the six-hectare forest is populated with giant nutmeg trees of up to 40m in height. Hordes of Balinese monkeys that inhabit both the trees and the temple, Pura Bukit Sari, located in the heart of the forest, will greet you as you enter the forest, some of them even daring to get close to you. The monkeys have become well acquainted with human company, but beware - sometimes in their attempts to get food, they will snatch some object in order to trade for food. Be aware that the monkeys are easily attracted by shiny objects, such as cameras, jewelry, wristwatches or glasses - best to leave these things behind or keep them hidden.